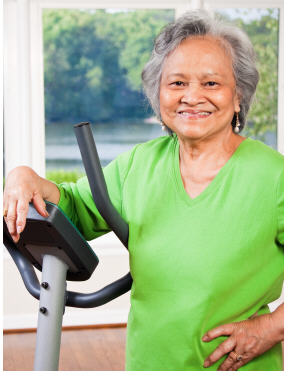 Exercising One Day a Week May Be Enough for Older Women
BIRMINGHAM, AL; August 30, 2013—A study by researchers at the University of Alabama at Birmingham (UAB) reveals that women over age 60 may need to exercise only one day a week to significantly improve strength and endurance.
The study, appearing in the Journal of Strength and Conditioning Research, monitored 63 women performing combined aerobic exercise training (AET) and resistance exercise training (RET) for 16 weeks. One group performed AET and RET one time per week, a second group two times per week and a third group three times per week. The study found significant increases in muscular strength, cardiovascular fitness and functional tasks in each group, but there were no significant differences in outcomes among groups.
"One of the biggest barriers to exercise training for the older female population is adherence, and one of the key findings in this study is that doing a little bit of exercise can go a long way," said Gordon Fisher, Ph.D., primary investigator of the study and assistant professor in the Department of Human Studies in the School of Education, with a secondary appointment in Nutrition Sciences in the School of Health Professions.
"Telling people that they need to do at least three to five days of exercise to improve their overall health can be a major obstacle," Fisher said. "Lack of time is the most often-cited barrier to exercise adherence. This study demonstrates that doing as little as one AET and one RET workout each week can provide a lot of benefit for older women's overall quality of life and health."
Fisher said the paper, "Frequency of Combined Resistance and Aerobic Training in Older Women," goes against what most people believe about exercise—that more is better. Greater frequency, intensity and duration of exercise training have been shown to be beneficial in younger adults. However, there have not been many studies looking at older women and exercise. This study suggests that the progressive overload that benefits a younger demographic may not necessarily apply to all aspects of health and fitness in women over the age of 60.
"Before I saw the data, if anyone told me that the group that only exercised once a week would improve their leg press more than 45 pounds during a 16-week period, I would have been quite surprised," said Fisher. "We were also surprised that all three groups increased their lean muscle mass but did not have any significant decreases in body weight."
This is an important consideration, as it is well known that there is a progressive loss of skeletal muscle mass throughout the aging process; thus preservation of lean muscle is extremely important in aging adults. Fisher said weight loss was not the goal of the study, and they did not ask the women participating to change their diet. His team was looking for ways to improve the women's overall quality of life.
The team assessed the efficiency and ability of the women to partake in tasks of daily living such as sitting and standing, walking and climbing stairs. For example, at the beginning of the study, each participant completed a 3-mile-per-hour walk test to determine heart rate and oxygen consumption during the task. The average heart rate was 110 beats-per-minute. After 16 weeks of AET and RET training, the women's heart rates averaged 92 beats-per-minute during the walk, indicating that the women required much less effort to do the same daily task following the exercise program.
Fisher suggested that a low-frequency, combined AET/RET program may be an ideal method of training to optimize strength and endurance, as well as improving quality of life in older adults. Health practitioners should consider incorporating this form of training when an individual is unable to perform vigorous exercise or higher training frequencies.

ARTICLES:
"Frequency of Combined Resistance and Aerobic Training in Older Women," Fisher, Gordon; McCarthy, John P.; Zuckerman, Paul A.; Bryan, David R.; Bickel, C. Scott; Hunter, Gary R. Journal of Strength & Conditioning Research: July 2013 - Volume 27 - Issue 7 - p 1868–1876 doi: 10.1519/JSC.0b013e31827367e0
The information in this study was part of a wider UAB study led by Gary Hunter:
"Combined aerobic/strength training and energy expenditure in older women," Hunter, Gary R.; Bickel, C. Scott; Fisher, Gordon; Neumeier, William H.3; McCarthy, John P. Medicine & Science in Sports & Exercise: July 2013. Volume 45 - Issue 7 - p 1386–1393. doi: 10.1249/MSS.0b013e3182860099.