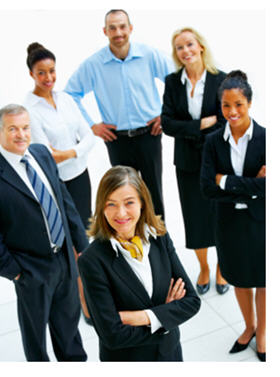 APA Announces New Center
For Organizational Excellence
The center offers resources on workplace performance and employee well-being.
WASHINGTON; January 23, 2013—The American Psychological Association (APA) announced today the launch of the Center for Organizational Excellence, a new program designed to promote employee well-being and enhance organizational performance. By applying psychology's knowledge base to a broad range of workplace issues and collaborating with other disciplines, such as management, human resources and occupational health, the center will leverage psychology's expertise in human behavior to help employers improve employee and organizational outcomes.
"Psychology has much to offer when it comes to improving the work lives of employees, as well as driving successful business results," said APA CEO Norman B. Anderson, PhD. "The establishment of a Center for Organizational Excellence positions APA as an expert resource for employers on topics including employee health, wellness and productivity."
The center houses and builds upon the efforts of APA's Psychologically Healthy Workplace Program (PHWP), a public education initiative designed to engage the employer community and increase public awareness of the benefits psychology can bring to the workplace. The PHWP includes APA's Psychologically Healthy Workplace Awards, support of local programs currently implemented by 56 state, provincial and territorial psychological associations, and a variety of resources for employers and the psychologists who work with them.
Additionally, the center bridges APA's business units and provides an overarching strategy for promoting the health and well-being of the association's own workforce.
"Whether an employer is designing a wellness program to address skyrocketing health care costs, implementing a new flexible work policy or trying to strengthen employee engagement, the key to success lies in understanding human behavior," said David W. Ballard, PsyD, MBA, APA's assistant executive director for organizational excellence. "Today, companies that excel go well beyond a focus on benefits and create a positive work environment, where both employees and the organization thrive."
Ballard, who heads the new center, has overseen APA's Psychologically Healthy Workplace Program since 2004. An expert on workplace issues, he has provided research and consultation services to government agencies, corporations, medical schools and universities in the areas of workplace health and productivity, public health, prevention and health care finance.
The Center for Organizational Excellence offers the following free resources for employers:
The center also offers conferences, webcasts and online courses for employers, human resources and benefits professionals and workplace consultants. Connect with APA's Center for Organizational Excellence on Twitter, Facebook and LinkedIn.
The American Psychological Association, in Washington, D.C., is the largest scientific and professional organization representing psychology in the United States and is the world's largest association of psychologists. APA's membership includes more than 137,000 researchers, educators, clinicians, consultants and students. Through its divisions in 54 subfields of psychology and affiliations with 60 state, territorial and Canadian provincial associations, APA works to advance psychology as a science, as a profession and as a means of promoting health, education and human welfare.