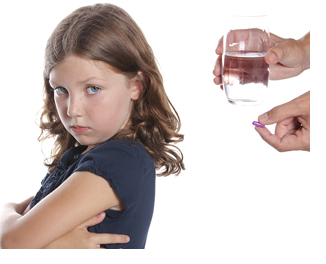 Antidepressant Drugs Do Not Improve Well-Being In Children And Adolescents
July 5, 2014—A study published in the current issue of Psychotherapy and Psychosomatics analyzing the use of antidepressant drugs in children and adolescents questions the effect of antidepressant drugs on overall well-being.
Recent meta-analyses of the efficacy of second-generation antidepressants for youth have concluded that such drugs possess a statistically significant advantage over placebo in terms of clinician-rated depressive symptoms. However, no meta-analysis has included measures of quality of life, global mental health, self-esteem, or autonomy.
Further, prior meta-analyses have not included self-reports of depressive symptoms. Studies were selected through searching Medline, PsycINFO, and the Cochrane Central Register for Controlled Trials databases as well as GlaxoSmithKline's online trial registry, including self-reports of depressive symptoms and pooled measures of quality of life, global mental health, self-esteem, and autonomous functioning as a proxy for overall well-being.
Result showed a nonsignificant difference between second-generation antidepressants and placebo in terms of self-reported depressive symptoms. Further, pooled across measures of quality of life, global mental health, self-esteem, and autonomy, antidepressants yielded no significant advantage over placebo.
Even though limited by a small number of trials, this analysis suggests that antidepressants offer little to no benefit in improving overall well-being among depressed children and adolescents.
Dr. Glen Spielmans, lead author of the paper, is associate professor of psychology at Metropolitan State University in St. Paul, Minnesota. In a previous paper published in the Journal of Bioethical Inquiry, Spielmans and his colleague Peter I. Parry found evidence from several sources, including internal documents from various pharmaceutical firms,which suggested that the foundation of "evidence-based medicine" has been undermined by drug marketers. "Suppression of negative data, ghostwriting, and other tactics are commonly used to paint an unrealistically positive picture of scientific research findings regarding medications," the authors wrote. "Having medical writing company directors who are aware and strongly opposed to ghost-writing practices is a vital part of the drive towards true evidence-based medicine."
Other recent studies have noted that the addition of behavior therapy reduces relapse in children and adolescents who receive antidepressant treatment. This study offers further information that can lead to the development of effective, evidence-based practice in treating childhood and adolescent depression.

ARTICLE:
"The Efficacy of Antidepressants on Overall Well-Being and Self-Reported Depression Symptom Severity in Youth: A Meta-Analysis," Spielmans G.I., Gerwig K. Psychotherapy and Psychosomatics, 2014;83:158-164 (DOI:10.1159/000356191)